Do you think Mui Ne an ideal place to escape from  brusting cities for a peaceful but exciting destination? And what can we tourists do there? Truly, there are a lot of things to experience in this gorgous place. Let's discover what to do in Mui Ne.
1. Visiting Sand Dunes.
White Sand Dunes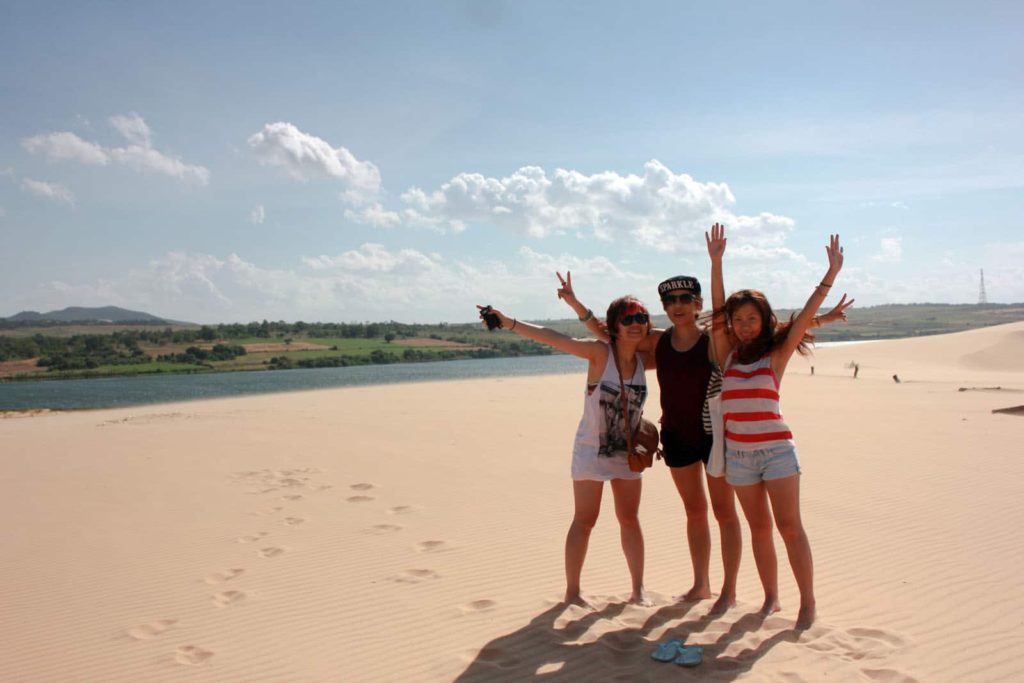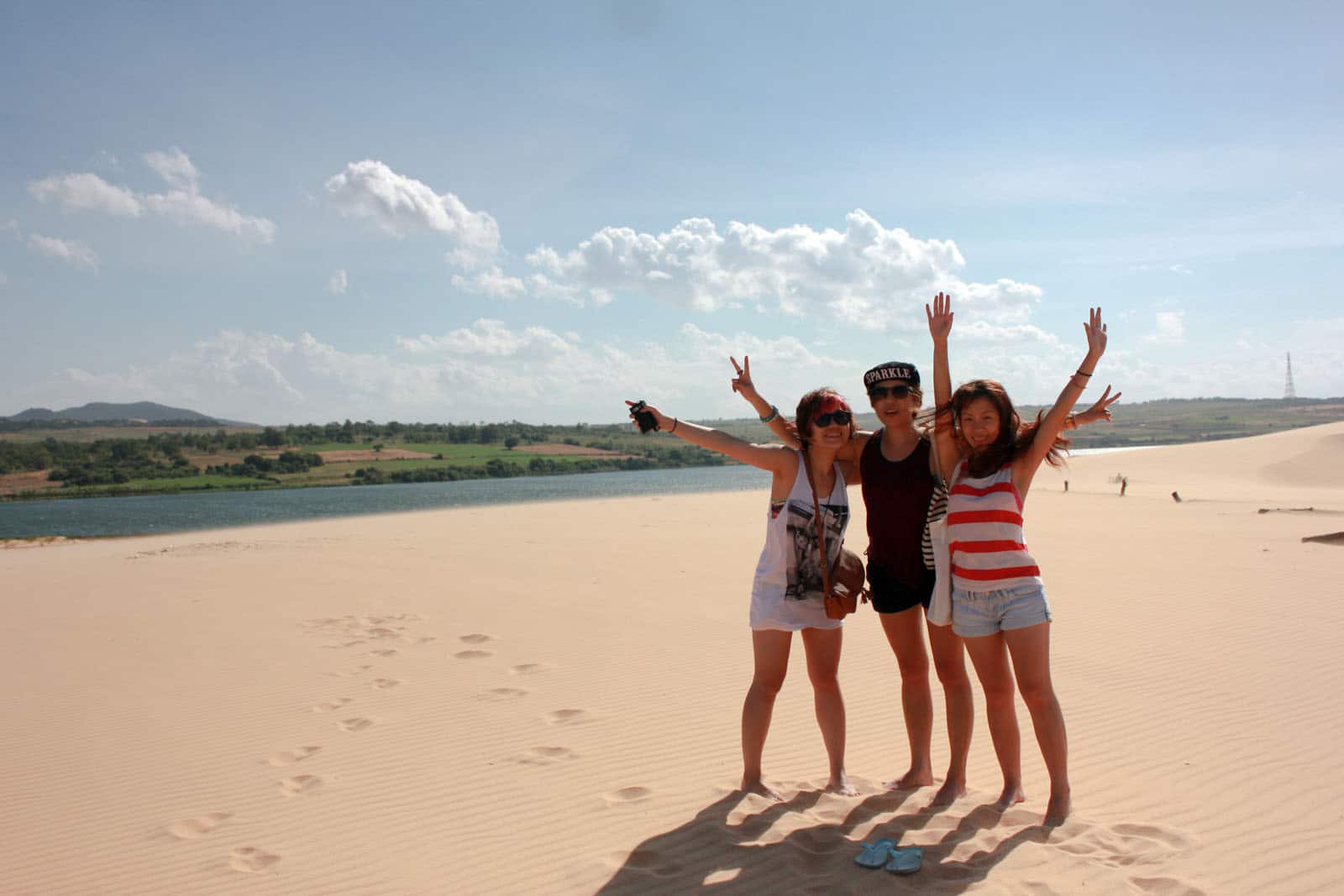 – Located 26 km northeast from the centre, The White Sand Dunes of Mui Ne, which can be seen as "The Little Sahara", is even more scenic in real life than movies and is sure to offer endless inspiration for photographers.
– Watching the sun marvellously rises on the White Sand Dunes can really offer energy for the whole day long. Though quad bike rental prices can be quite high according to Vietnamese standard (up to 50 dollars), going quad biking here is worth the money, as tourists can observe the whole spectacular view of hundreds of kilometre glistening snow-white stretches of sand which change patterns all the time thanks to the continuous breezes.
– The best time to visit this place is in the early morning from 5 to 8 AM, as the weather is still pleasant. There are jeep tours which take around 20 minutes to the White Sand Dunes, but you can always travel there on your own. Remember to bring water, broad-brim hats and sunglasses along to avoid possible heat. Vietnamese snacks can be found in scattered local stands here.
Red Sand Dunes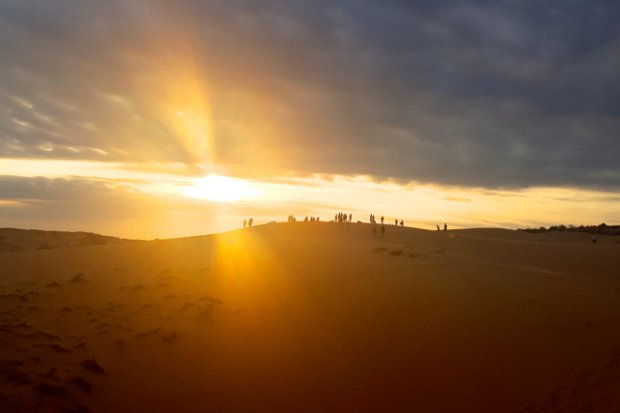 – For busy tourists, The Red Sand Dune area is easier to reach as it is only around 17 km from the centre. For couples, surrounded by the mysterious glorious reddish-brown sand and observing the sunset together can definitely bring back sweet memories. Besides, tourists can go sand-sledding which brings so much fun. Be sure to find a dry and higher spot for easier ride. It is best to visit this place in the afternoon to both go sliding the sand dunes and watch the romantic sunset.
2. Taking sand dunes jeep tour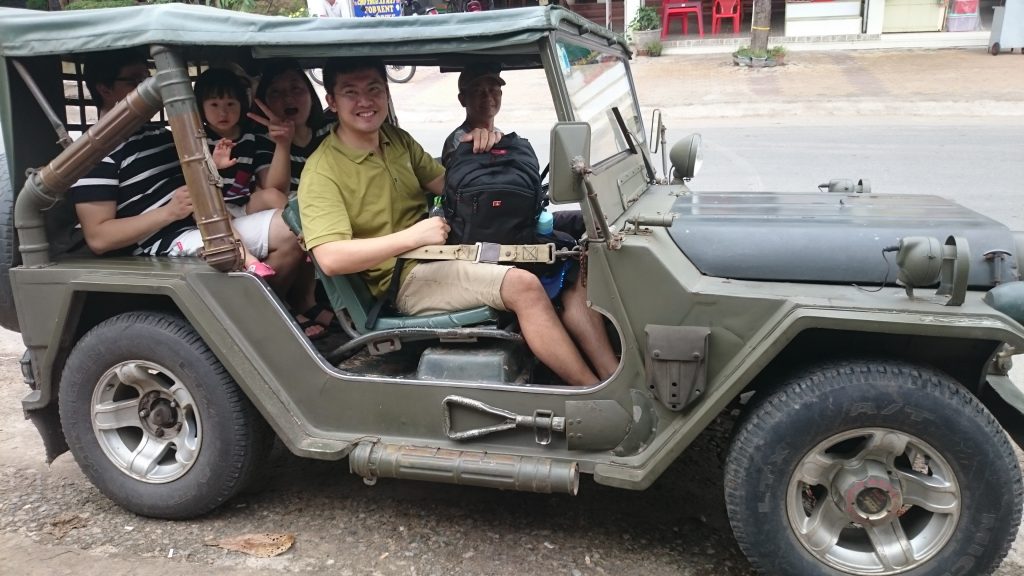 – Depending on the number of people, tour prices range from around 5 to 40 dollars. The tours are approximately 4 hours, and take you to the white and red sand dunes as well as some other attractions such as the Fairy Stream or Fishing Village. It is a joyful drive and perfect for contemplating almost all the life in the area without worrying about getting lost or being tired.
– Remember to check the departure time, as it can be very early (at around 4.30 AM or 13.30 PM), so that visitors can enjoy the sunrise or sunset on the sand dunes.
Read more: Sand dunes jeep tour
3. Experiencing with Fairy stream
– Surrounded by the dryness of a desert-like area, cool and fresh Fairy Stream brings a totally different but pleasant experience to visitors. With coconut palms lining on the right and white and red sand dunes on the left, this landscape under the skilful hands of nature never ceases to surprise tourists.
– To get to the streams, park your bike at sugar- cane juice stands and stroll along the path for around 30 minutes until your eyes can see the special reddish water in the stream under the sunset which is similar to that in a fairy tale. Then you can have your feet soaked in the cool shallow stream, and instantly forget daily life burden.
4. Visiting Fishing Village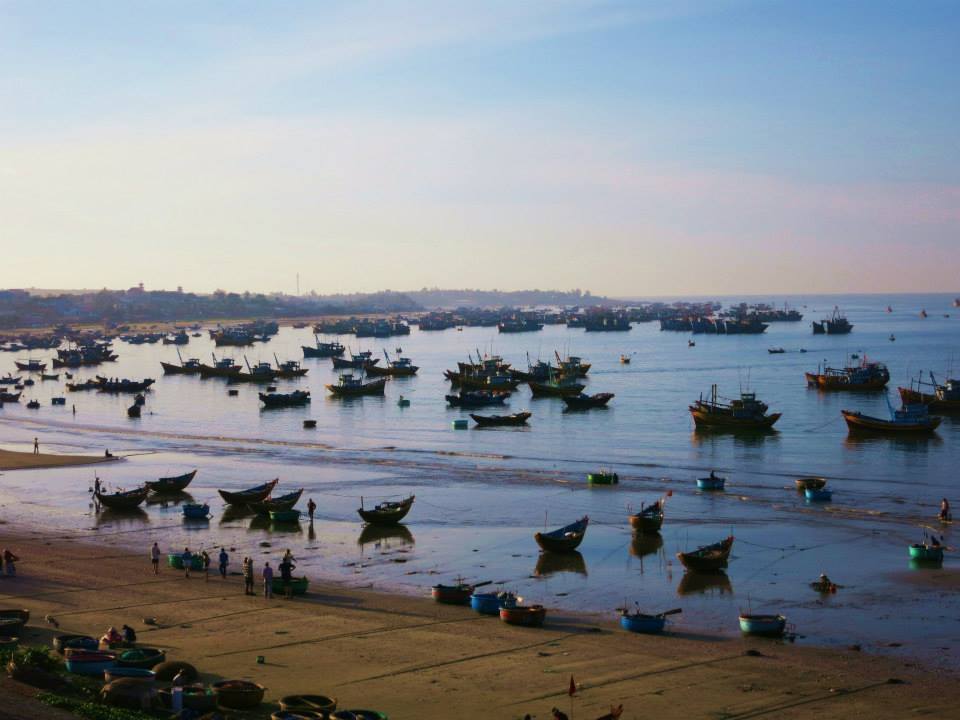 – It is a peaceful yet bustling place with interesting fish sales activities. Approximately 7km from Mui Ne town, a fishing harbour full of colorful boats is found. Fishermen and their family are busy sorting their catches to sell to other places. The freshest and perhaps cheapest seafood can be purchased right on the shore. A variety of fish, crabs, or shellfish is also sold in the nearby market where the sound of bargain and laughter fill the air. Be sure to stop by this place so that you can have a real treat of seafood.
– Visitors can get  here by car or motorbike, but bicycle may be the best choice as it allows you enough time to feel the atmosphere of the life in a fishing village in the early morning or late afternoon.
5. Heading to Poshanu Towers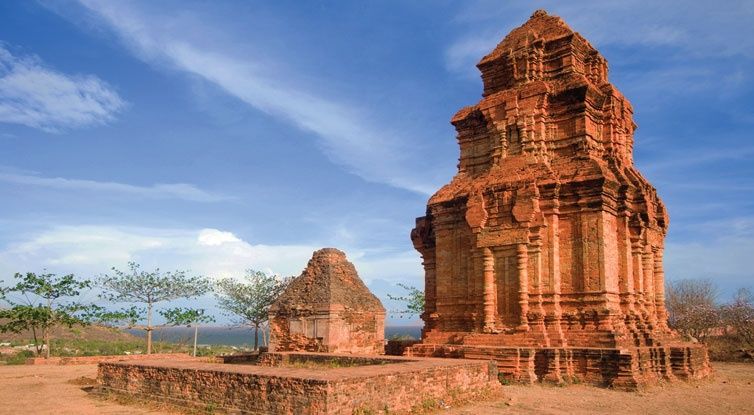 – Around 10 minute ride from Mui Ne, this is a worth-visiting attraction if you are interested in cultural values. The towers worship Shiva, the God of Creation, Destruction, and Regeneration, and are precious vestiges of Champa Kingdom in Cambodia. People from the area including fishermen and Champa people often come here to wish for luck or conduct certain rituals. From here, there is a great view of the whole city for taking photos.
6. Climbing up Ta Cu Mountain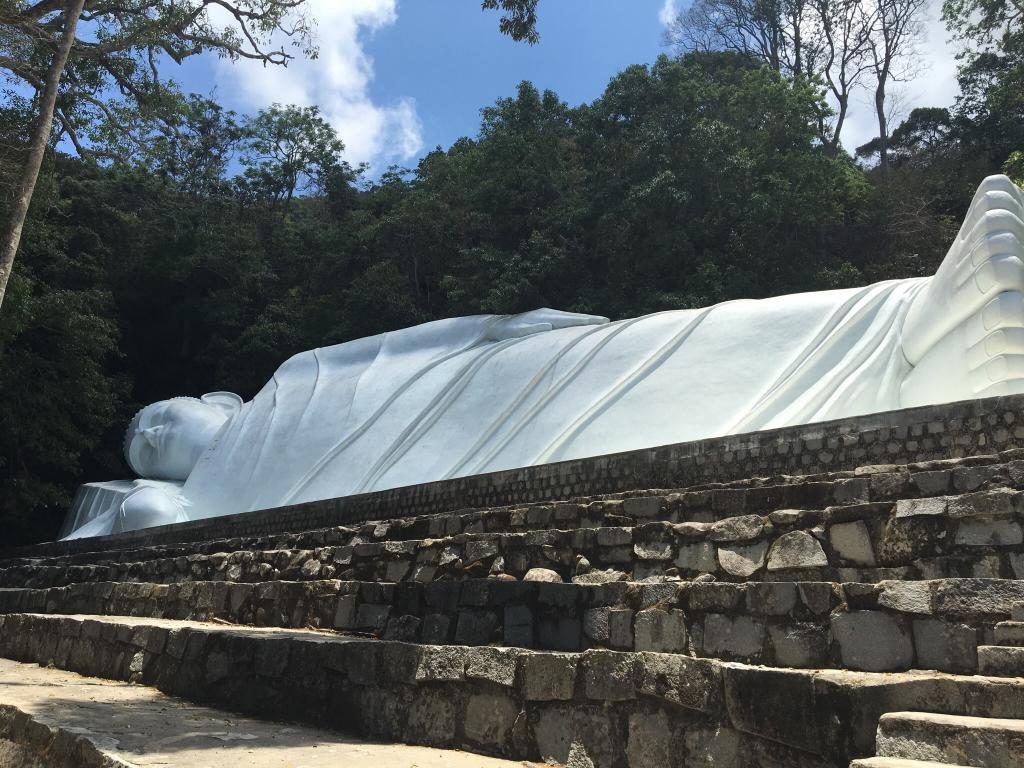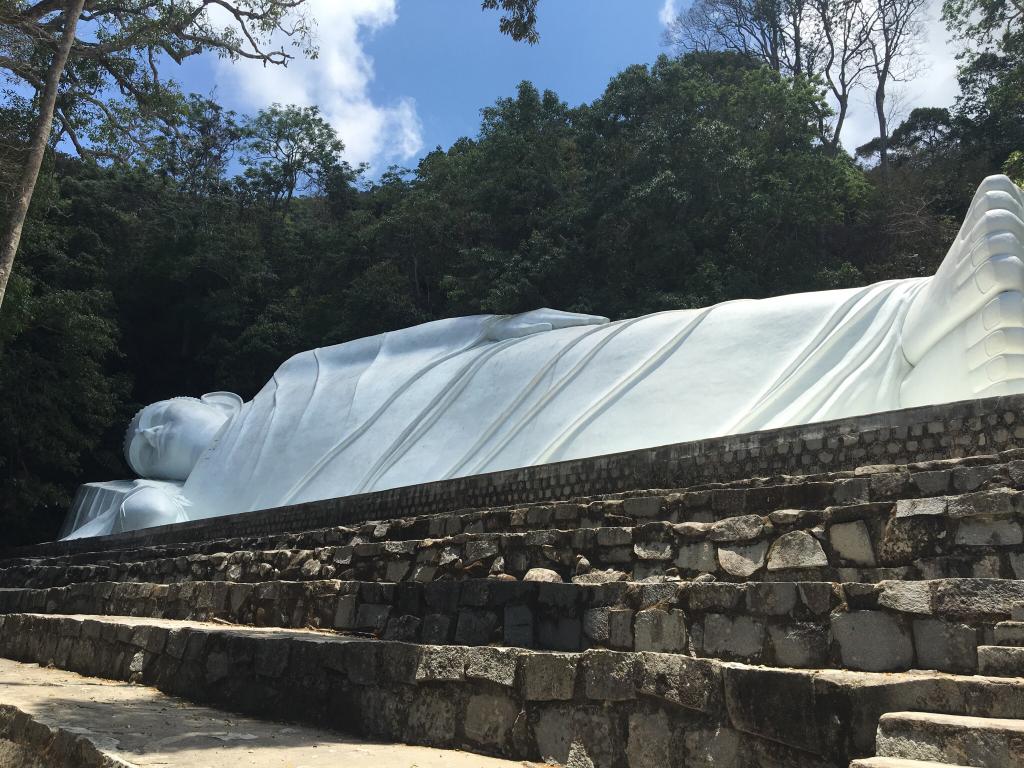 – Combining your relaxing holiday at scenic spots with a little exercise is a fantastic way to keep in shape. Ta Cu Mountain is simply suitable for that purpose. It is nearly 60 km from Mui Ne, and there is a legendary 49-metre statue of reclining Buddha on top of the mountain whose right elbow you can touch and make your wish come true. In order to reach the top, tourists may choose either to take a cable car in which you can enjoy breathtaking views (for around 16 dollars per person) or hike up a path through a safe forest which offers really peaceful atmosphere and turns you into an explorer.
– Remember to bring good hiking shoes, water and hats with you for the return trip down the steps which takes roughly an hour. It is sure to take away your sweat and fat.
7. Watching Ke Ga lighthouse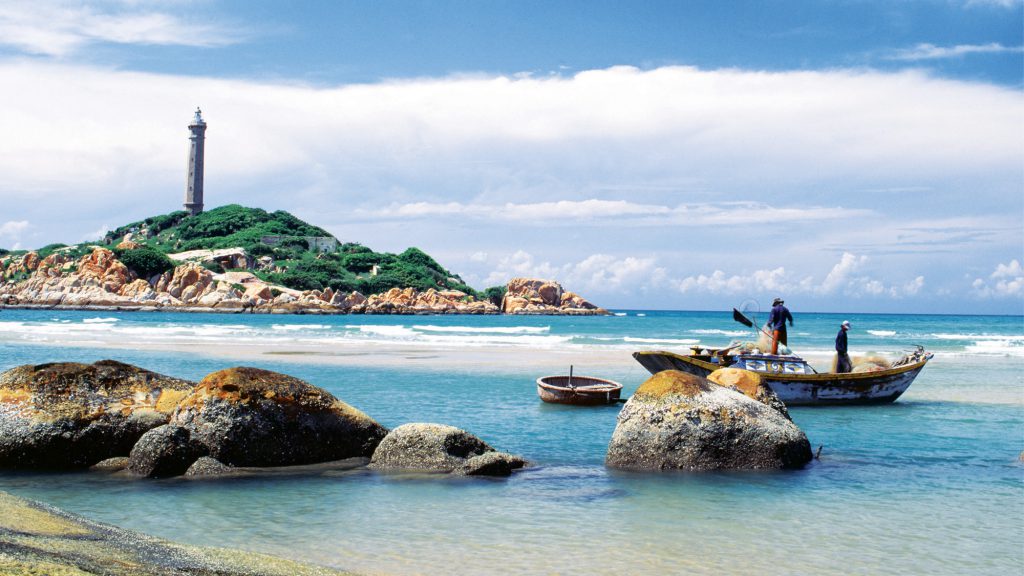 – Observing from afar, this is only a 41 meter monument. However, standing on the island and walking a little to the top to see the whole view is another wonderful experience. Your camera is sure to be used all the time as the scene is absolutely gourgeous. The old trees, together with the clouds, sea, and marvellous rocks by the shore give the place a both anxient, mysterious, and youthful sense.
– Ke Ga light house is roughly 60 km from Mui Ne. Tourists can take a boat to the island and the price for each person is about 3 dollars. You should bargain if the service price is much higher than that.
8. Enjoying on Beaches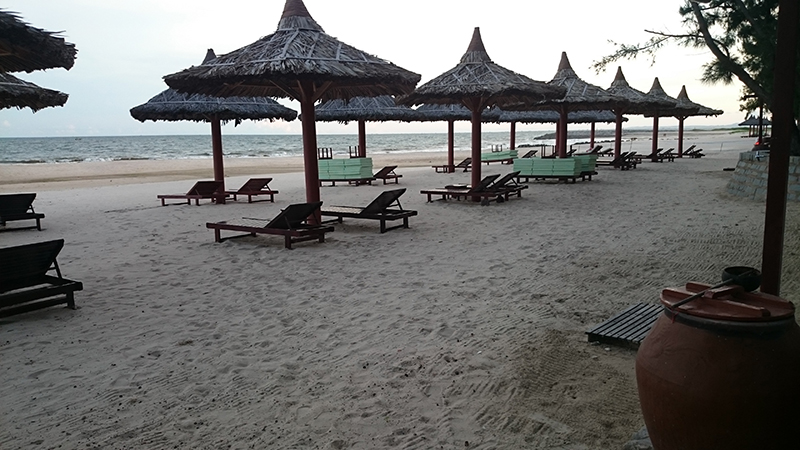 – Swimming or at least paddling in the sea is definitely an essential part of a beach trip. There are some great beaches in Mui Ne that tourists can choose among.
– Hon Rom (or Ganh) beach is popular among Vietnamese tourists and perfect for seafood-on-the-spot and having fun. It is around 30 minutes Northeast from Mui Ne centre. A bike trip along the coast to savour the sunset is also great.
– Suoi Nuoc beach (between Red and White Sand Dunes and northeast of  Hon Rom) is appealing to visitors from the West with miles of cool unspoilt quiet white-sand beach. The beach is ideal for relaxing.
– Bai Da Ong Dia (9 km from Phan Thiet center) is a special place with many rocks and clean blue sea, very suitable for posing. The continuous sound of the waves rushing into the rocks creating an endless melody is sure to keep you stay longer than expected.
– Bien Rang (15 km Northeast of Phan Thiet) is ideal for swimming. At this place, there is a combination between modern luxurious resorts and rustic fishing villages. Except for July and August when seaweed rises onto the water surface, at other time visitors are sure to be attracted by the soft brown beach and clear blue sea in this area.
9. Learning Kite Surfing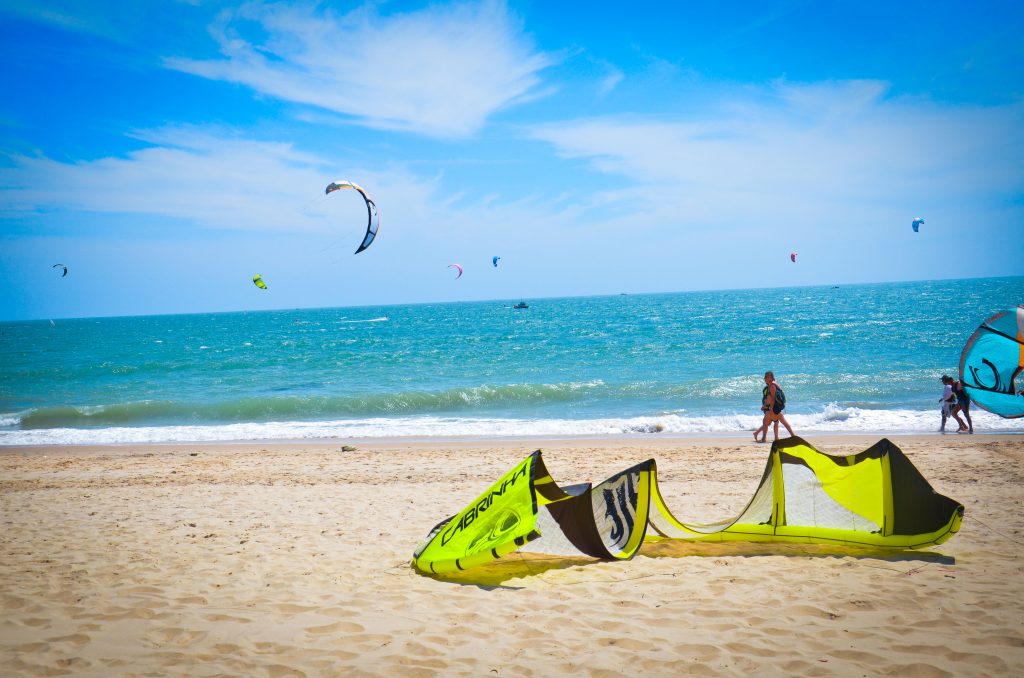 – Besides swimming in the blue sea and sunbathing or strolling along beautiful beaches, visitors can also savour your time here while learning kite surfing. Mui Ne is a paradise for learning kite surfing in Vietnam, as the wind and weather conditions are the most suitable. The high season is from the end of October to March. There are some schools to learn, but be careful of the too cheap ones as they may not provide enough safety. For beginners, Mui Ne main beach is a better location, while Cemetery, Hon Rom, Suoi Nuoc, and Turtle island are for more experienced surfers. For those seeking for something adventurous, kite surfing is definitely a sport which should not be missed.
10. Enjoying Seafood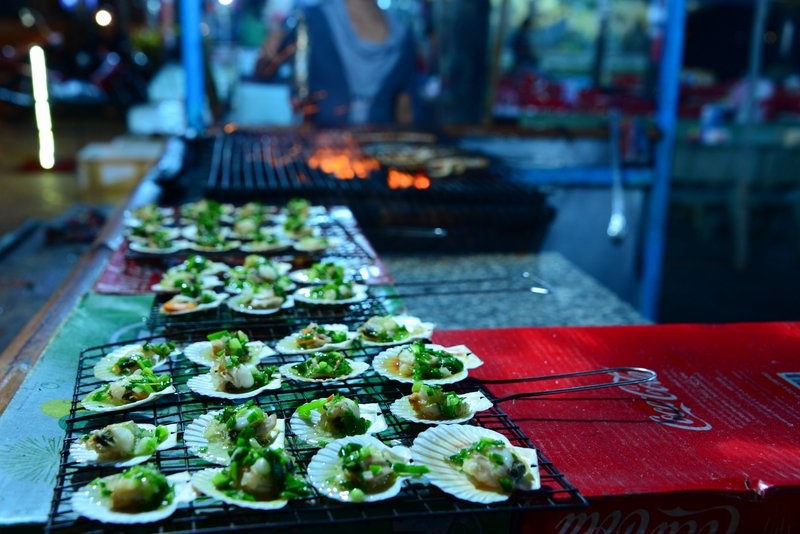 – Seafood, especially crabs and shellfish – the most spectacular gifts of nature, can be found plenty here in Mui Ne. Tourists can enjoy the freshest seafood right at the shore near the Fishing Village, but remember to bargain for an acceptable price before you buy. Otherwise, visitors can go to Bo Ke area on the beach strips, where simple local eateries are found. There are both Eastern and Western choices of dishes in some restaurants. Though not as luxurious as in 5-star restaurants, enjoying seafood in Mui Ne gives you a great sense of Vietnamese local cuisines. Otherwise, head to Ham Tien town and there are plenty more restaurants and much more seafood to enjoy.