Mui Ne fairy stream since the total eclipse on October 25, 1995, Mui Ne has been lighted by scientists and those who love astronomy. They all arrived Mui Ne to watch this natural phenomenon. Since then, the romantic place names of Mui Ne have been discovered, including Fairy Stream.
Fairy Stream is the favourite destination of visitors in and out of the country. White, red, and orange are main colours making this place unique and mysterious. Fairy Stream impresses tourists with its orange and red water, instead of pure and babbling water.
Fairy Stream water is very shallow, so travellers can fruly walk in the cool stream, and forget high temperature here. All sorrows disappear, and joys only remain in tourists'mind.
Fairy Stream is considered as The Elysium, so many tours in Mui Ne choose this site as an attractive destination.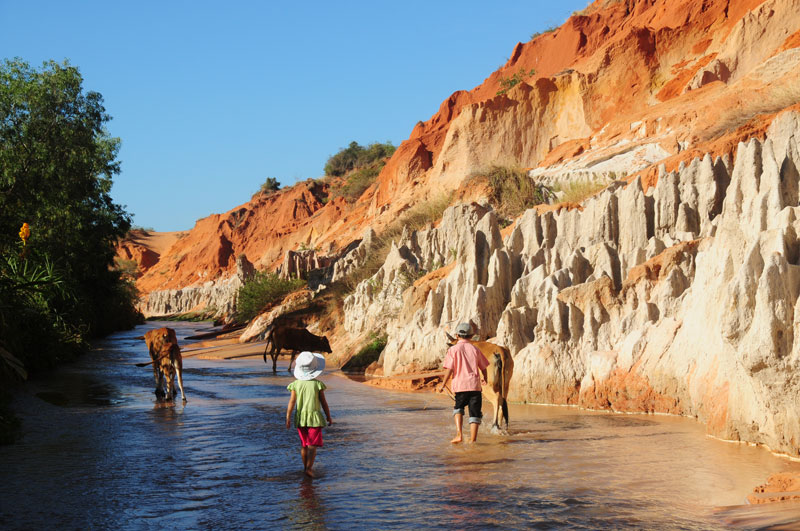 Fairy Stream is named stream, but it is actually a small water gap which is near Hon Rom ( Straw Dune) belonging to Mui Ne ward, Phan Thiet city. To make Suoi Tien discovery complete, tourists should walk for 1 km from Huynh Thuc Khang street ( the stream's end) to the little waterfall at the stream head
Read more: Best deals hotel in Mui Ne
Tourists will  walk in the stream flow. Sometimes they walk on white and smooth sand, but they also climb over weird undulary sand dunes. It's hard to walk for the first 100ms, and The Elysium appears then. An amazing space is described with red and white sand as well as green trees. Besides, there are undulary stalactites worn out by weather.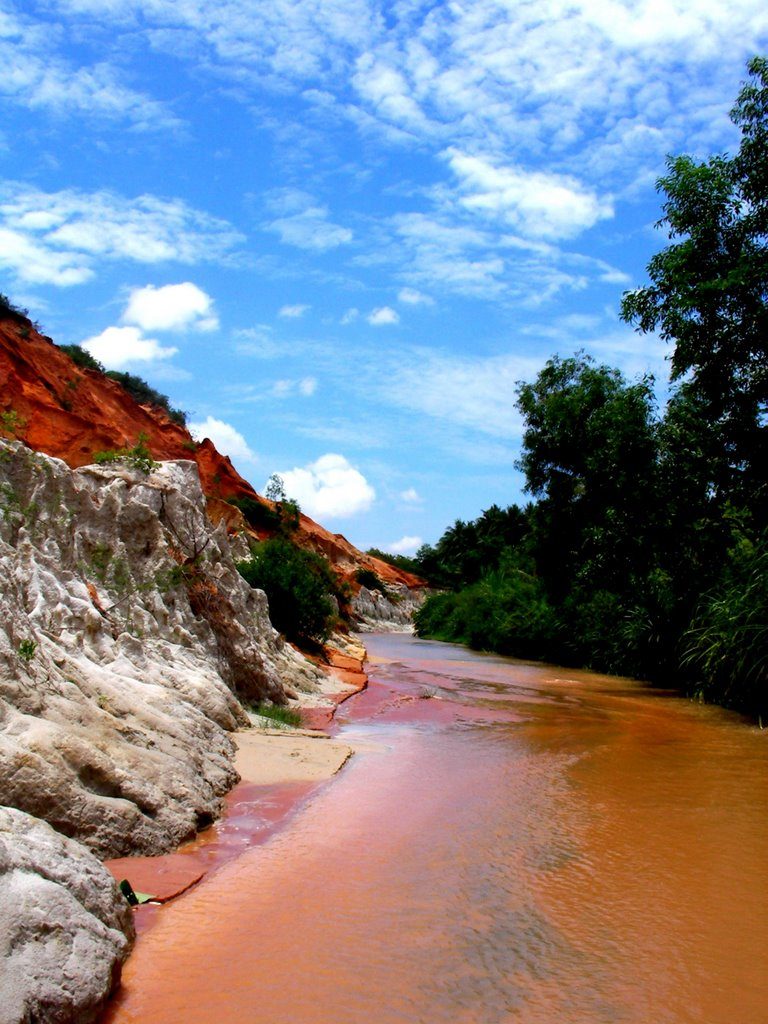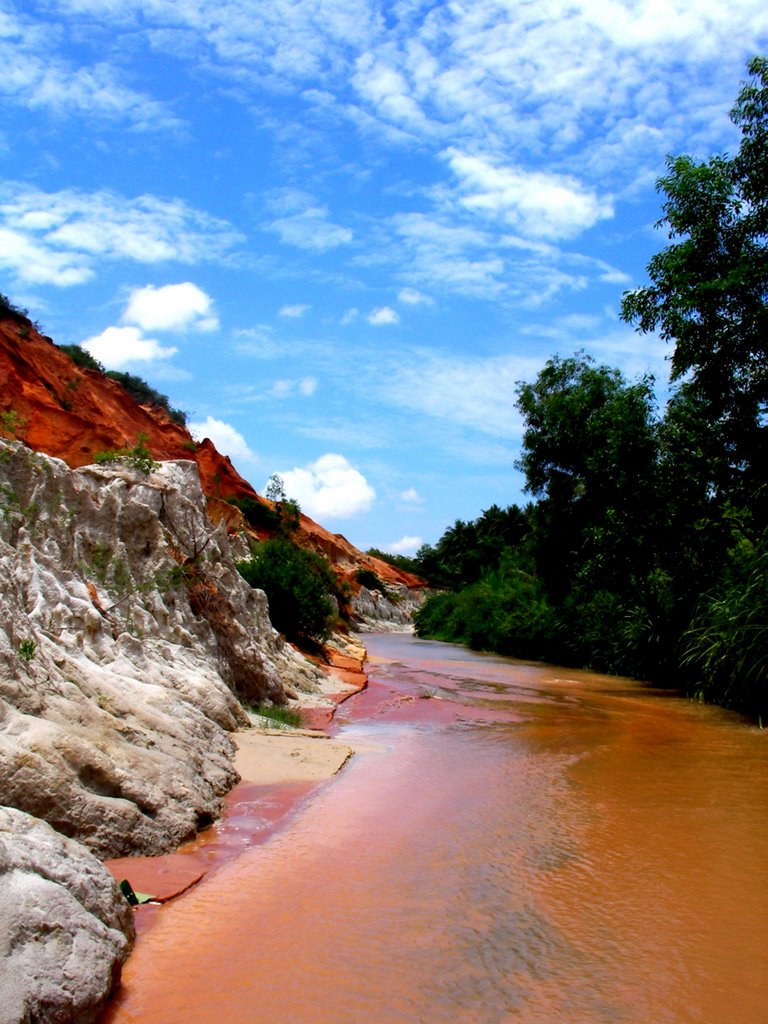 Along the stream, bare foots of tourists will not be tired, because they walk on smooth sand, and watch landscapes of Heaven on Earth. Besides, there are many paths to sand dunes in Fairy Stream. From high sand hill, Fairy Stream looks so romantic, because a green line of coconut is on a side, and a statly wall of 2- color sand is on the opposite.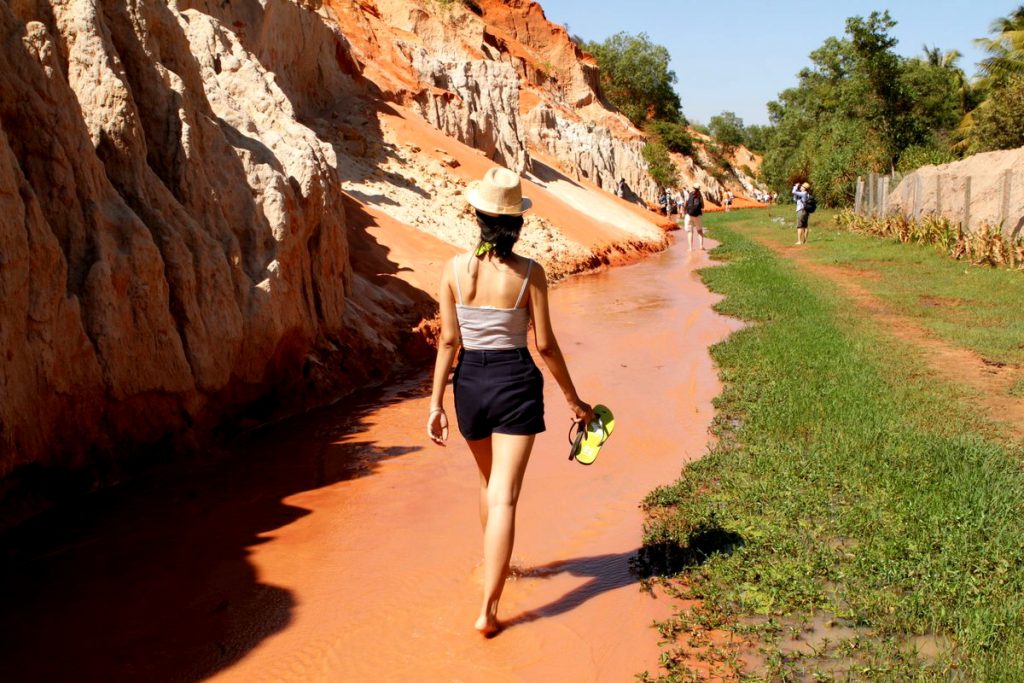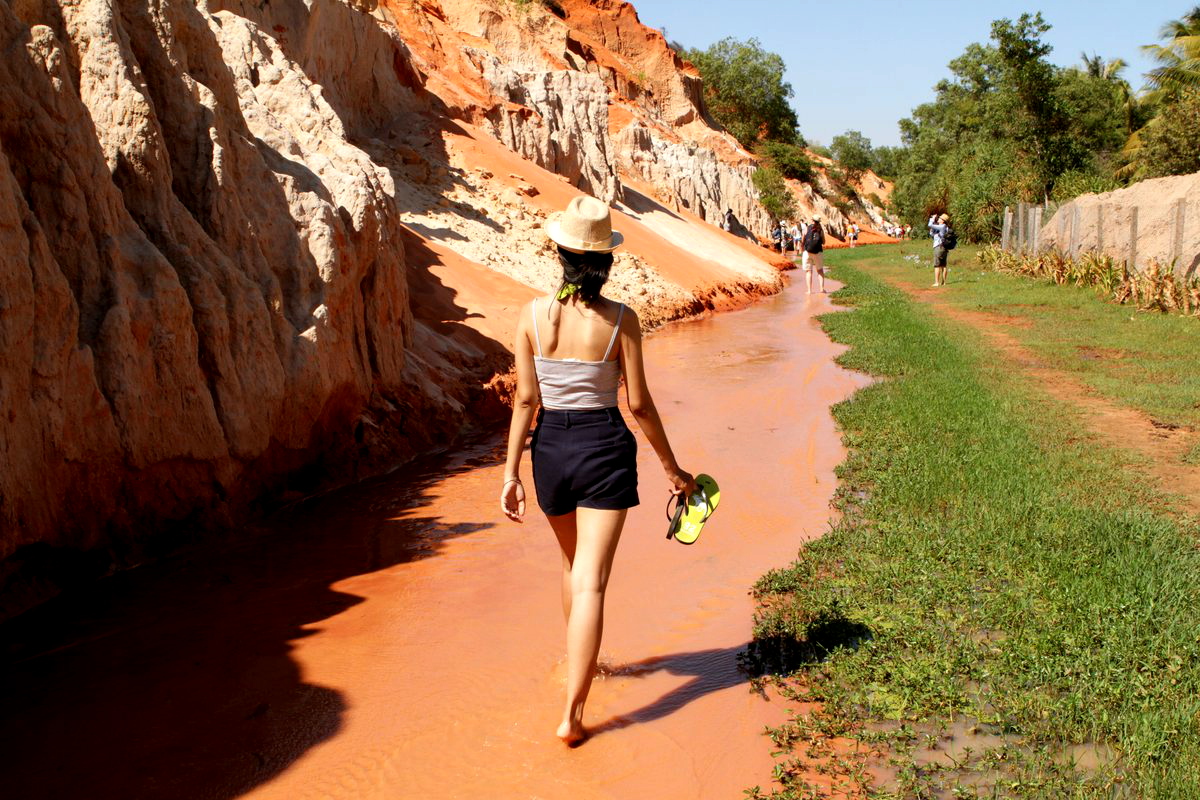 No matter it is cool or sunny, Fiary Stream is full of travellers. Most of tourists entering this stream are foreigners.
Although it takes 1 hour to experience this stream, many tourists spend more time to discover this wonderland.
After walking in the stream and watching landscapes, visitors can take a stop at shops along the bank to enjoy fresh and sweet coconut planted right in Fairy Stream. They may also visit farms here to ride an ostrich for more amazing moments.
Together with other tourist sites, Fairy Stream becomes more attractive with tourists in and out of the country. This stream will always be one of the most interesting destinations in Mui Me for travellers. Fairy Stream discovery is also a unique kind of tourism that offers more choices for visitors, along with smooth beaches and flying sand hills.
Let's choose Fairy Stream as a destination of our journey that can not be missed.
Book tour Fairy stream – Fishing Village – White sand dunes – Red sand dunes