If you are flying in to Ho Chi Minh from overseas, it is most likely that you will land in Terminal 2 of Tan Son Nhat International Airport. The cheapest way to get in and out of the airport is by taking the airport shuttles bus. Now, taking airport shuttles has never been easier. The city now has NEW dedicated airport shuttles going straight to District 1 (city center) and the popular Ben Thanh Market.
There are a few color-coded public shuttle buses, such as blue, green, and yellow that go around the city. To make things simple, just stick with the yellow bus. Here are the 3 different buses that go between the airport and city center.
Route 109 – Yellow: from the Airport to District 1 has been operating since mid-March 2016 and is proving a hit with locals and visitors alike.It terminates at Park 23/9, right near Pham Ngu Lao backpacker district and goes via Ben Thanh Bus station (it l1eaves from the same platform as the 152 at this station).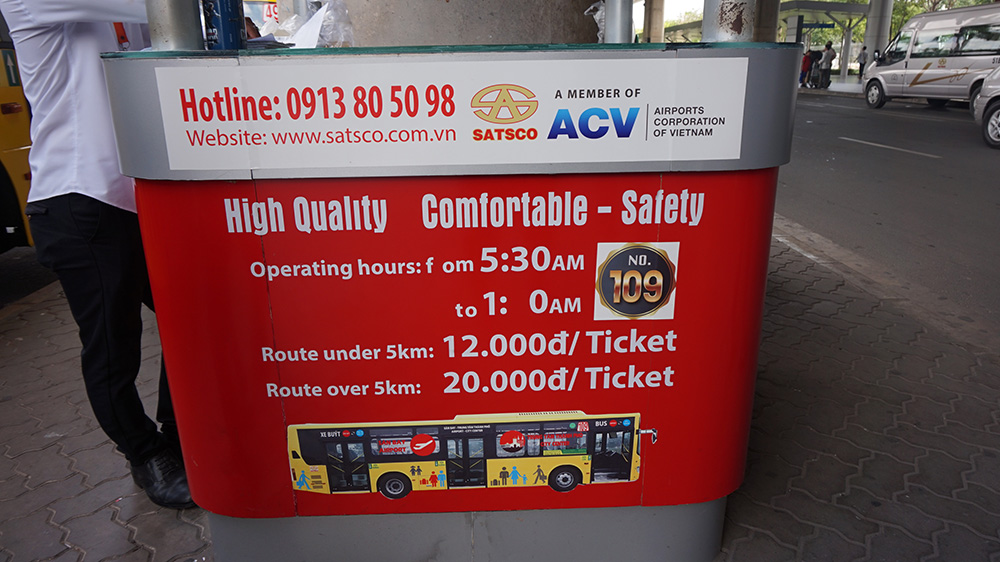 The trip costs 20 000 VND (<$1 USD) to District 1 and only 12 000 VND if you don't go all the way.  Just tell the staff where you want to get off and they'll tell you the price) And, there's no extra charge for luggage. The buses are air conditioned, have non-slip floors, brand new modern interiors and large open areas to put your bags. And for your safety and security, video cameras have been installed.
Written information on the bus is in both Vietnamese and English, and staff speak adequate English to help out.
The bus leaves every 15 to 20 minutes between the hours of 5.30 am and 1.30 am. t takes approximately 45 minutes from the airport to the 23/9 Park  on Pham Ngu Lao street, right off of the backpacker's area.
Where it is parked: you can find the bus station right in front of both the domestic and international arrivals' entrances. When you walk out of the terminal arrival, turn right and walk across the median where the car pick up lanes are and you will see the Vietnamese and English signs pointing your way.
The specific journeys are listed as follows:
From Tan Son Nhat International Airport to the downtown area: International Terminal → Domestic Terminal → Truong Son → Tran Quoc Hoan → Lang Cha Ca Roundabout → Hoang Van Thu → Nguyen Van Troi → Nam Ky Khoi Nghia → Nguyen Dinh Chieu → Cach Mang Thang Tam → Pham Hong Thai → Le Lai → Ben Thanh Roundabout → Ben Thanh Bus Station → Pham Ngu Lao → 23/9 Park.
From the city's center to Tan Son Nhat International Airport: 23/9 Park → Le Lai → Ben Thanh Roundabout → Pham Ngu Lao → Yersin → Tran Hung Dao → Ben Thanh Bus Station → Le Loi → Pasteur → Vo Thi Sau → Nam Ky Khoi Nghia → Nguyen Van Troi → Phan Dinh Giot → Truong Son → Domestic Terminal → Truong Son → International Terminal.
Route 49,  this is the pricier airport shuttle with a 1-way trip costs VND 40,000 (USD $2). The reason for the doubled costs compared to the yellow Bus 109 is that they will drop you off directly at your hotel in the city. There is no extra charge for luggage. Like route 109, the route 49 is operated with modern buses and trained staff with English and communication skills.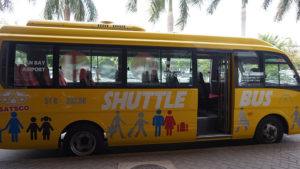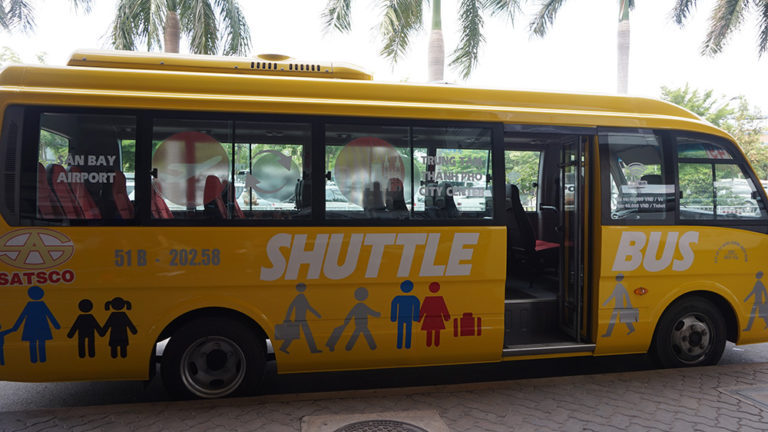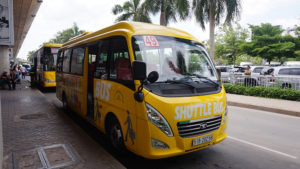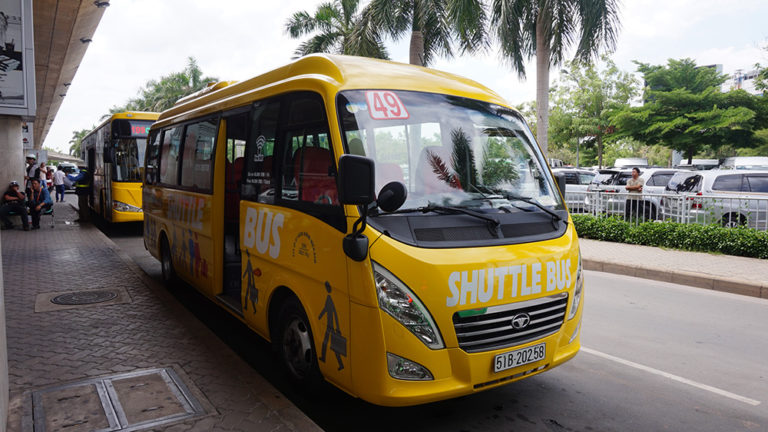 The service is available between 5 a.m. and 1:00 a.m. the next day.
Routes same as bus 109 above
Tip: Do not accept rides from random people offering to take you to the city center as you will be ripped off. Also, ignore people who tell you that there are no more buses in the evening. Please note that buses operate between 5:30 AM – 1 AM daily.
Route 152 –  This is a local public bus that travels between the city center and airport. The cost is much cheaper, but you will need to pay extra if you have luggage.
The cost is 6,000 VND (~30 cents) per person plus a fee for bags that varies from about 4000 VND for a smaller bag to 14 000 VND (70 cents) for two larger ones.
This  bus has more stops than the yellow buses, and the condition is older.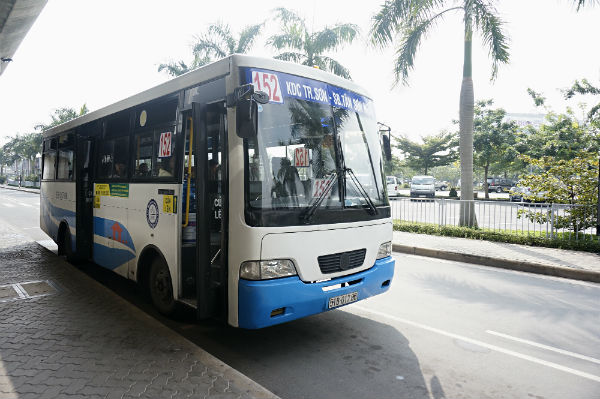 Upon exiting the airport, turn right and you will see the bus waiting there. If not, walk down to the domestic terminal – about a 5-minute walk.  The bus waits across a small road. There is no signage indicating where the bus stop is.
We would love to hear your experiences, please share with us in the comments below
muinego