Cao Dai temple – Cu Chi tunnels 1 day tour – Overview
Cao Dai Temple – Cu Chi Tunnels 1 Day Tour .You might have wonderd if Vietnam has a religion of its own. The answer is yes, and its name is Cao Dai. CaoDaiists believe that, before God existed, there was the Tao which was nameless, formless, and unchanging. Then, a Big Bang occurred, out of which God was born. The universe could not yet be formed and to do so, God created yin and yang….
Detail Itinerary Cao Dai temple – Cu Chi tunnels 1 day tour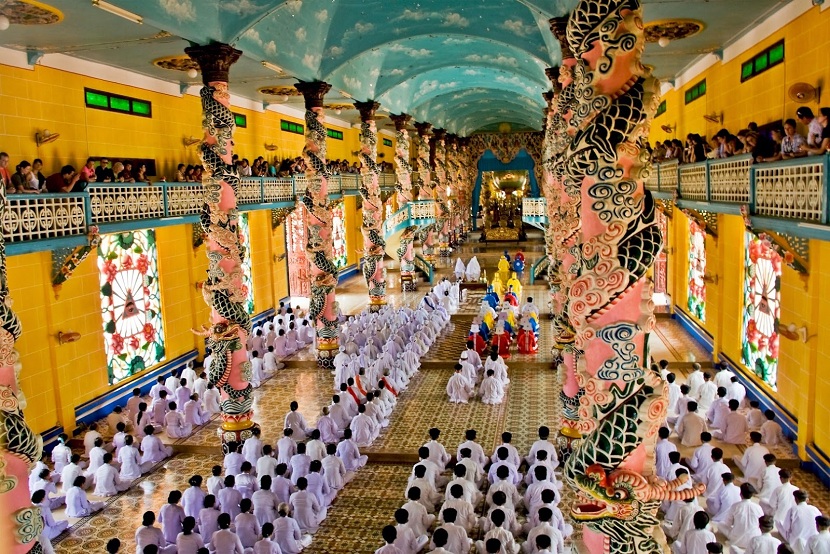 Morning Tour is Cao Dai Temple in Tay Ninh.
08.30am – 08.45am you will start from Ho Chi Minh City/Saigon to Cao Dai Temple in Tay Ninh – a province 95 kms South East of HCMC, close to Cambodia border.
The Great Holy See Temple, built in 1926, is considered one of the most striking structures in all of South-East Asia. It is the headquarters of the unique Cao Dai sect, a religion with a hybrid of Buddhism, Christianity & Confucianism. Above the entrance is the all-seeing holy eye – symbol of the sect. Visitors will attend the midday ceremony's extravaganza to witness the daily mass held by the Cao Dai followers which is a fantastic experience.
Afternoon tour is Cu Chi Tunnel Tour.
13:00 After lunch, proceed to Cu Chi Tunnels to explore the amazing site where Viet Cong hid during the War. It is now a popular spot for both Vietnamese & foreign tourists – the network of over 200km of tunnels became legendary when they played a vital role in the War. In their heyday, the tunnels were functioning underground cities including numerous trap doors, specially constructed living areas, storage facilities, weapons factories, field hospitals, command centers & kitchens. There is plenty of evidence of the fierce battle that took place here during the 1960s when Cu Chi was a "Free Target Zone". Visitors can watch a short introductory video showing how the tunnels were constructed before entering the tunnels. Spend the next hour exploring the tunnels. Afterwards, enjoy tea, cassava (guerrilla's food in war time).
Finish Cao Dai Temple – Cu Chi Tunnels 1 Day Tour. Arriving Saigon/Ho Chi Minh City at 06.00pm – 07.00pm.
Price of Cao Dai temple – Cu Chi tunnels 1 day tour
Tour Price Includes:
Private A/C car or van
English-speaking tour guide
Entrance fee
Mineral water (1 bottle/pax/day)
Tour Price Excludes:
Travel insurance
Beverage and food
Tips & personal expenses (shooting gun, telephone calls…)
Other services not mentioned in the inclusion.
Departure time, meeting point: as requested
DAILY GROUP TOUR:
Departure time, meeting point: 07:45 AM at 220 De Tham street, District 1, HCMC. (Pick up on request with surcharge for guests who stay in the central city ). We provide free pick up at Pham Ngu Lao, De Tham, Bui Vien, Cong Quynh
Tour Price Includes:
A/C bus
English-speaking tour guide
Entrance fee
Mineral water (1 bottle/pax/day)
Tour Price Excludes:
Travel insurance
Beverage and food
Tips & personal expenses (shooting gun, telephone calls…)
Other services not mentioned in the inclusion