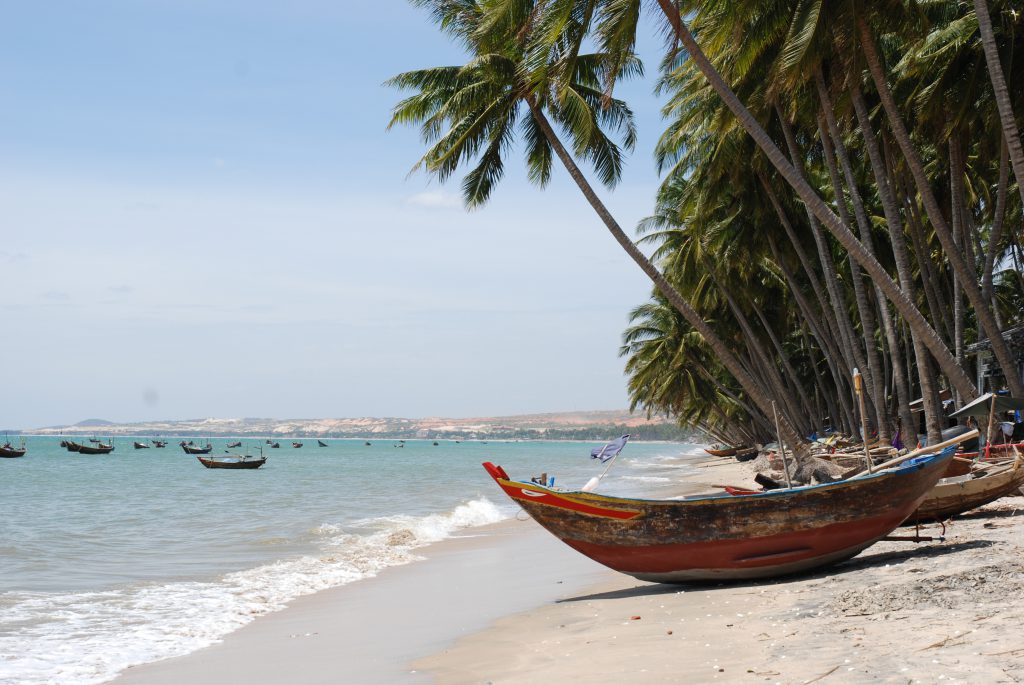 Mui Ne is a small beach town and only 200km away from Saigon. Mui Ne was named by local fishing people because this is the shelter in stormy season. "Mui" means cape and "Ne" means hiding or avoiding. The town has a long stretch of ocean and strong sea breeze, which attract many tourists to come here to relax, to learn kitesurfing. If you're looking for places that are beautiful, quiet, not touristy then this is definitely a good choice.
The most famous part of Mui Ne lies on Nguyen Dinh Chieu street with resorts, hotels right on the beach. At night, the wave is very strong and may hit up to your room's window. Spend some time to walk along this street and you will find many BBQ outdoor seafood vendors. They offer many kinds of fresh seafood that you can choose and ask them how you want your seafood cooked. This BBQ vendors area is very busy at night, when you and your friends/family can sit under beautiful stars, look at the ocean, feel the nice breeze, enjoy grilled lobster and red wine.
Besides the beach, the sand dunes are top attraction in Mui Ne. The dunes range from gold to pure white sands and red sand dunes can be found further south of Mui Ne. These sand dunes have appealed many photographers, from amateurs to professionals. Climbing the dunes at 4am in the morning is also a good experience. At that time, you can still see the moon, the sky is dark blue and you will have remarkable pictures for the trip. Watching the sun rises from top of the dunes will give you breathtaking moments. For fun and activity, you can rent a hard rubber carpet/surfing board and ski down the slope quickly, then run back to the top.
At the end of Nguyen Dinh Chieu street are several fishing villages, where you can see basket boats and see how the people produce fish sauce. You will learn a lot from the local people there and maybe they will take you with them on a basket boat, sail on the ocean and catch fish. You can rent a motorbike to ride around with only $5 to $7 per day or join jeep tour to explore the sand dunes.
Mui Ne is a perfect place for people that want to have some quiet and relaxing time from busy daily life. It is not as famous and as touristy like Nha Trang and Da Nang but you will love its own charm.